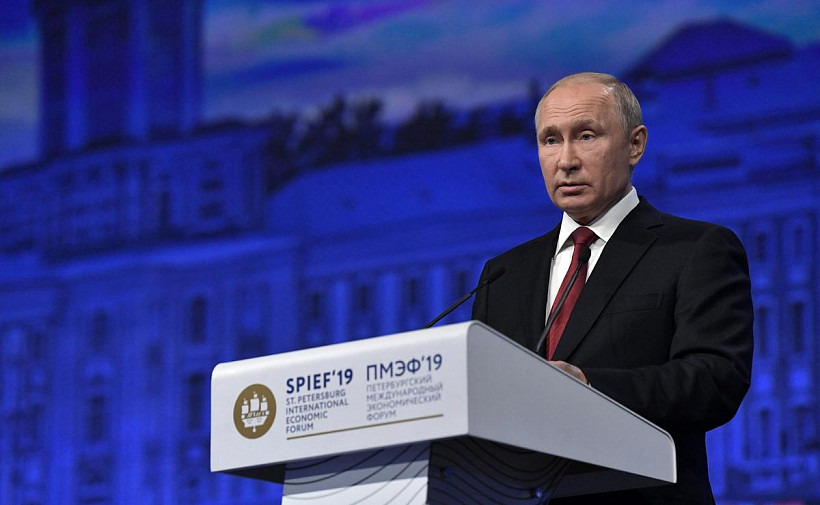 Vladimir Putin wished success to the WorldSkills Russia national team in the International Competition in Kazan
During his speech at the plenary session of St. Petersburg International Economic Forum (SPIEF-2019), the Russian President drew attention to WorldSkills Kazan 2019 – an international event that will be hosted by the Republic of Tatarstan this summer.
«As you may know, in August, Kazan will host the WorldSkills competition, during which, at Russia's initiative, the first ever competition in skills for the future will take place, including machine learning and big data, composite materials technology and quantum technologies. I wish every success to our team and the competitors," Vladimir Putin noted. "New industries will require specialists with new skills. We are moving quickly to upgrade programmes and education content for this."
Competition in the skills for the future, which was brought up by the Russian president, is part of Future Skills, which is WorldSkills Russia's priority area of developing new skills. It is aimed at proactive training of personnel for high-tech industries and transforming economy.
The WorldSkills competition in Kazan will feature 25 Future Skills in a format of interactive space in a separate 10,000 m2 pavilion. Competitions in these skills will not be included in the main medal rankings, but the Russian initiative has already been backed by a number of countries, and competitions will be participated by 150 competitors from such countries as Belarus, Kazakhstan, Germany, France, South Africa, while China will have the largest delegation.
Russia will host the WorldSkills international competition for the first time. Some 1,500 competitors from 69 countries will gather at WorldSkills Kazan 2019 to compete in 56 basic skills. The competition will become the largest international event hosted by Russia in 2019.
Russia will be represented by 63 competitors, who have proven themselves at national competitions and qualification events. They will compete in all 56 skills that will be featured by the international competition. Apart from adult competitors aged 16-22, the Russian team comprises 17 junior members who will compete in 13 skills of WorldSkills Russia Juniors.
The Union "Young Professionals" (WorldSkills Russia) uses best international practices to improve training of personal and vocational education. It is also a part of the Russia – Land of Opportunity platform. Its role was also noted by Vladimir Putin. The president stressed that a human resources project like this encouraged personal and professional growth and was unprecedented in scale.
"It drew over 1.6 million people in 2018 and 2019 alone," Vladimir Putin said. "We are committed to promoting this system, to making it more effective and transparent, because the more daring and talented people engage in business, science and public and social administration, the greater success we will achieve in handling development issues and the more globally competitive our country will be."
Other news