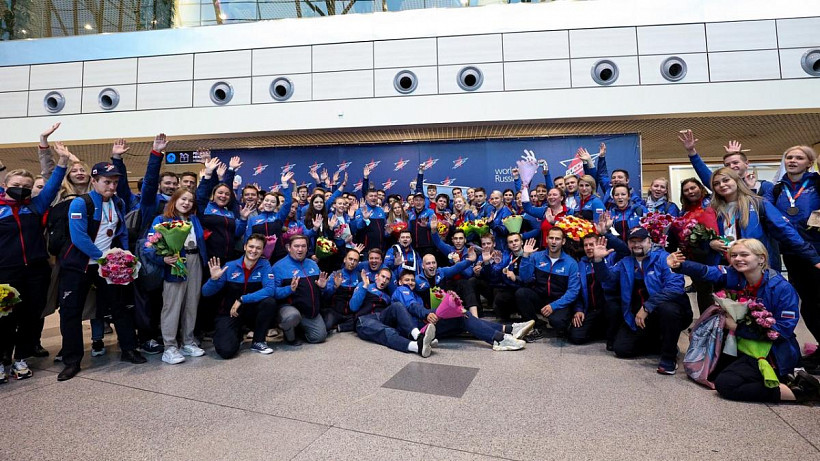 APPLAUSE AND STRONG HUGS: THE WORLDSKILLS RUSSIA NATIONAL TEAM WAS SOLEMNLY WELCOMED IN MOSCOW AFTER WINNING THE EUROSKILLS GRAZ 2021
The WorldSkills Russia National Team, the winner of the EuroSkills Graz 2021, the largest skills competition in Europe for young people under 25, was solemnly welcomed at Domodedovo Moscow Airport. Russian competitors received a record number of medals at the EuroSkills Competition.
Relatives and friends, groupmates, teachers, and mentors came from the regions of the country to congratulate the newly arrived WorldSkills Russia National Team with a well-deserved victory. The WorldSkills Russia National Team became the first among the 31 member countries of WorldSkills Europe according to the results of the team standings.
"For a long time, we could not understand the training level of our competitors compared to competitors from other countries as due to the pandemic, international communication was limited. But the result is obvious to everyone: we are absolute champions. The peak of professional excellence is hard for absolutely everyone, but the guys tried very hard and did it 100 percent. The competition was intense, the experts finished the assessment at four in the morning. We beat France, Austria, Germany – our main rivals. This suggests that the system of training specialists in our country is the strongest. This is a very important achievement for us. I would like all the members of the WorldSkills Russia National Team to stay in the movement as competitors, experts, those who support WorldSkills with all their hearts", - Robert Urazov, WorldSkills Russia Director General, commented on the victory.
This year, as Robert Urazov mentioned, the members of the WorldSkills Russia National Team managed to reach new heights. For example, our competitors could not win gold in Restaurant Service at the international level for years. But they managed to do this, they won gold. Roman Sakharov and Kirill Shestimerov won the long-awaited bronze in Landscape Gardening at the EuroSkills Graz 2021. As they said, the Test Project could not be called easy. But, oddly enough, the support of rival competitors helped to cope with it in many ways.
"We are participating in a team skill competition, and if the partners are friends for each other, close people, then everything will definitely work out and they will win. We have proved this by our own example. We worked in the workshop for an average of six hours a day, it was difficult. But we have never seen such friendly and responsive rivals. We will definitely maintain relations with everyone and share professional experience", - the medalists said.
Competitors have 2 more days of training ahead such as discussion of speeches, work on mistakes, and new joint events. On September 28, they will meet with Tatyana Golikova. The Deputy Prime Minister of the Russian Federation will congratulate the members of the WorldSkills Russia National Team with an absolute victory at the EuroSkills Graz 2021.
Other news