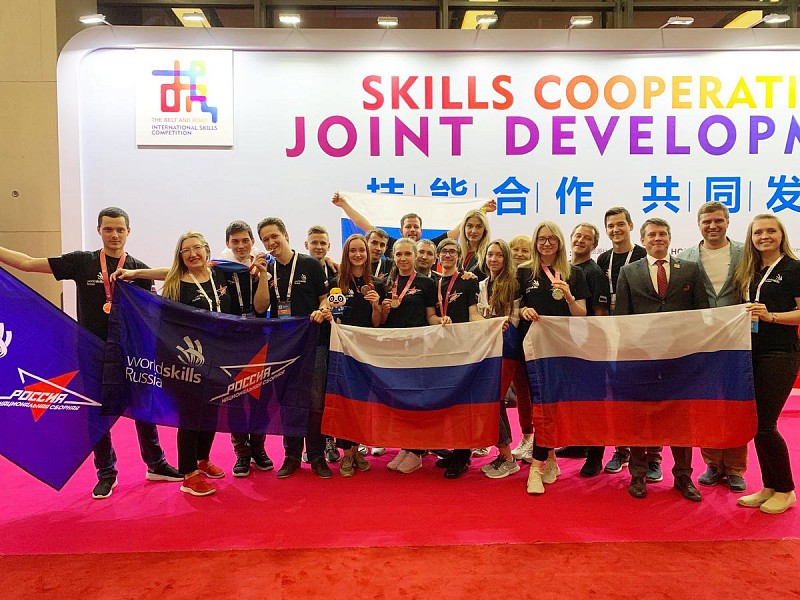 The WorldSkills Russia national team won seven medals in the International Competition in china
The first international skills competition Belt and Road International Skills Competition (BRISC) hosted by the Chinese city of Chongqing has ended. During the competition, almost 700 participants from 40 countries and regions competed in 18 skills to demonstrate their professional excellence.
Russian competitors won gold in the skills of hairdressing, as well as painting and decorating. Competitors in the skills of electronics and electrical installations ranked second. Competitors in the skills of information network cabling, fashion technology, and health and social care won bronze.
The Ministry of Human Resources and Social Security of the PRC, which supported holding the competition, made joint development and cooperation in the field of skilled jobs the core idea of the event.
Zhang Lixin, the head of the Ministry of Human Resources and Social Security department of vocational training, noted: "Professional excellence has no boundaries. Everyone strives to develop professional skills, promote employment, entrepreneurship, economic and social development. This competition serves as a platform for communication and cooperation and has received a positive feedback from all countries participating in it."
It should be noted that the "One Belt, One Road" initiative has emerged from the new Chinese leadership understanding of the key role of China's foreign policy towards neighbouring countries. According to Chinese President Xi Jinping, the successful promotion of foreign policy towards the country's neighbours creates a favourable environment for the peaceful development of China, which, in turn, will bring great benefits to neighbouring countries and allow joint prosperity.
"We consider participation in BRISC a practical step toward the fulfilment of the Eurasian integration strategic partnership and "One Belt, One Road" initiative in the area of creating a common educational space and single labour market, - Russia's technical delegate at WorldSkills International and Deputy Director General for international Affairs Alina Doskanova said. - Experts from 40 countries have agreed to develop applied skills for 18 most popular jobs in Eurasia and partner countries."
The
WorldSkills Russia
national team is a group of competitors representing Russia at international skills competitions. The largest of them – international and European competitions – are held every two years in one of the member countries of the WorldSkills International movement. The earliest competition to be participated by the Russian national team is the
WorldSkills Kazan 2019
international competition. The 45th WorldSkills Competition 2019 will be held from August 22 to 27, 2019. It will be attended by about 1,500 competitors from 69 countries, who will compete in 56 skills.
Other news