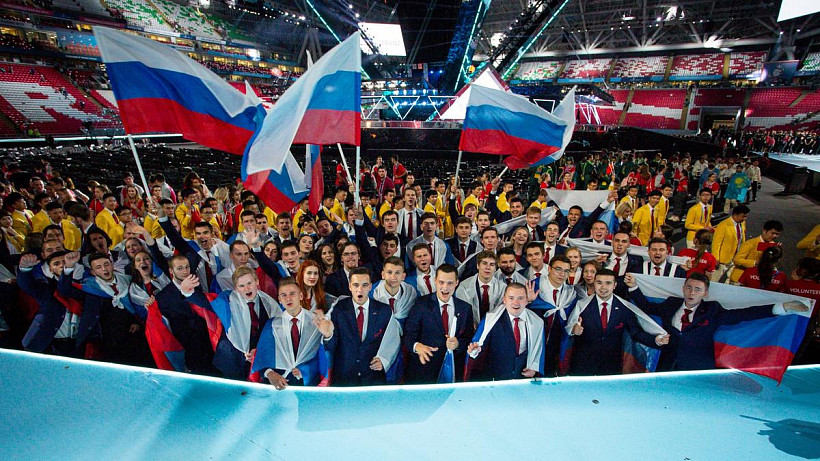 Russian national team won 22 medals at WorldSkills Kazan 2019 competition
Russian national team has won 14 gold, 4 silver, 4 bronze medals and 25 skill medallions at the 45th WorldSkills Kazan 2019 professional skill competition, going second in medal count. Chinese team took first prize and South-Korean national team was third. Winners and medalists were awarded today at the official closing ceremony at Kazan Arena.
Gold medals for the first place in the ranking table were awarded to WorldSkills Russia national team members in the following skills: "Hotel administration", "Visual merchandising", "Prototype production", "Manufacture of products from polymer materials", "Information security", "Laboratory chemical analysis", "Printing technologies in print media", Culinary art", "Motor car maintenance", "Welding technologies", "Dry construction and stucco work", "Flower arranging", "Refrigeration engineering and air conditioning systems" and "Jewelry".
Second places and silver medals were awarded to the competitors in the following skills: "Information cable networks", "Aviation equipment maintenance", "Hairdressing" and "Electric wiring".
Bronze medals were awarded for the third place to the Russian team members in the following skills: "3D modeling for computer games", "Mobile robotics", "Tiling" and "Freight forwarding".
"It is the first time Russia holds a competition for the planet's best professionals. It has become the largest and most meaningful in the history of the movement, a bright and impressive show that offered every possibility for the honest and fair competition, companionship of the spectators and participants from over 60 countries of the world, - President of the Russian Federation Vladimir Putin highlighted at the closing ceremony and congratulated the competitors. - Half a million of our fellow citizens have already joined this movement, and the number of its supporters and participants is growing steadily. In our country, WorldSkills has become a key element of the advanced vocational training system that we are developing, inter alia, in virtual economy specialities. We are changing our colleges, creating wide, unprecedented opportunities of technical creativity for children. I am glad our experience turned out to be in demand".
Anastasia Kamneva, a gold medal winner in the "Chemical Laboratory Technology" skill (International Expert Andrei Yakovenko, Director of Biotechnology Projects, "R-Farm" Group of Companies), was announced the best performer in the world competition and became the first Russian who was awarded a prize named after Albert Vidal - a prestigious prize named in honor of the Spanish father of WorldSkills international movement. Mikhail Vorontsov, a competitor in "CNC milling" skill (International Expert Tzaturyan Georgiy), was awarded the Best of Nation prize.
"Our country has won 22 record-breaking medals, 14 of which are gold medals. Such number of winners speaks for a very high level of training in our country; it speaks for the fact that there are world-class technology holders among our experts and teachers and that we have outperformed those countries, which were the best and from which we learnt 2-3 years ago. Russia was trying to catch up but now it is keeping ahead of the filed as a strong competitor to WorldSkills permanent leaders. Besides, we've won 25 medallions for professional skill, a guarantee of professional recognition of a competitor by the international community. Together with Best of Nation and Albert Vidal Prize, Russia has won 49 prizes at the world competition in Kazan - this is a serious drive for the development of vocational training in Russia", stated Director of Young Experts Union (WorldSkills Russia) Robert Urazov.
Medallions for professional skill were awarded in the following skills: "Architectural stone carving", "Concrete construction work", "Web design and development", "Graphic design", "CAD engineer design", "Brickwork", "Confectionery", "Body repair", "Paining and decorative work", "Mechatronics", "Cloud technologies", "Heavy equipment maintenance", "Car painting", "Carpentry", "Software solutions in business", "Industrial mechanics and assembly", "Restaurant service", "Plumbing equipment and heating systems", "Network and system administration", "Joinery", "Fashion technologies", "CNC turning", "Bread baking", "Electronics", and "Esthetic Medicine".
WorldSkills professional skill competition was held in Russia for the first time. It ivolved 1354 competitors from 63 world countries. They competed in 56 skills for 4 days.
At the end of the official ceremony, the world competition flag was presented to the Chinese participants; China is already getting ready for WorldSkills Shanghai 2021. Deputy Chairman of the Government of the Russian Federation Tatyana Golikova handed the WorldSkills flag to Deputy Chairman of Chinese People's Political Consultative Conference Van Yuntsin.
WorldSkills Kazan 2019 was held in Kazan from August 22 to 27, 2019. It hosted more than 1,300 contestants from 63 countries who competed in 56 skills. The competition became the most large-scale international event in Russia in 2019.
Kazan won the right to host the competition in 2015, following the results of the voting of all member countries of WorldSkills International movement. In Russia, WorldSkills Russia involves all the 85 regions of the country and is one of the top-priority personnel training projects.
Other news