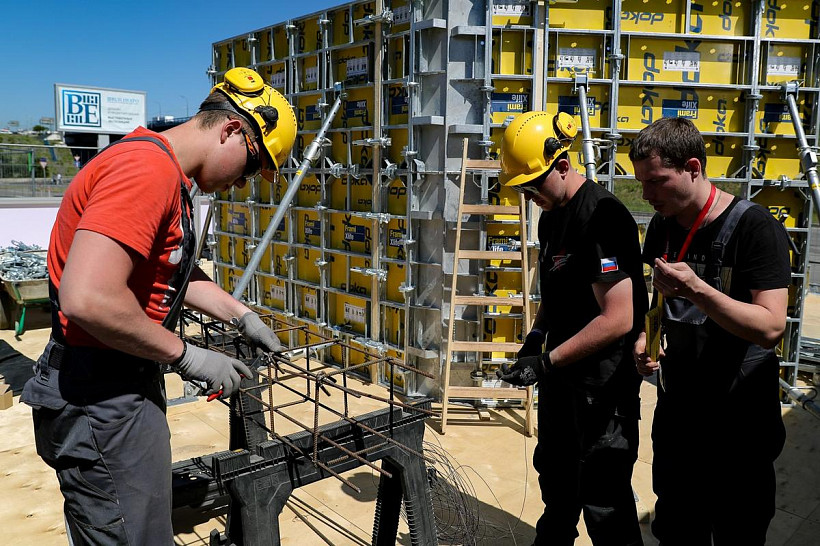 Konstantin Afonin: "In the next 2-3 years, approaches of concrete construction work producers will change»
Training of the WorldSkills Russia national team in the skill of concrete construction work took place on the sidelines of the international specialized exhibition of construction equipment and technologies Bauma CT RUSSIA2019, which was held from June 4 to 7 in "Crocus Expo."
International competitions featured the skill of concrete construction work for the first time in 2015 in Brazil. Back then only five member countries competed in the skill. The Russian national team first competed in the skill during the international competition in Abu Dhabi in 2017, and came fourth winning a medallion for excellence. During the international competition in Kazan 10 teams will compete in the skill, and their number will increase to 16 in 2021.
Concrete construction works is a team skill. The team consists of two competitors. Teamwork, communication and interpersonal relationship skills, as well as ability to solve problem and non-standard tasks are of great importance.
The training session was attended by team members of the Seventh "Young Professionals" (WorldSkill Russia) National Competition 2019 winners – Aleksandr Erofeev and Aleskandr Miheev. The competitors were recommended to be enlisted in the expanded national team. Both represent Moscow and study in college. Alexander Erofeev is a student of the Automobile and Road Technical College named after A. A. Nikolaev, and Alexander Mikheev is a student of the College of Architecture, Design and Reengineering № 26. Prior to that, they went all the way from qualifiers in their colleges to regional competitions and victory in the national competition final.
"In the era of building information models, there are new corresponding requirements for performance, accuracy and efficiency of construction solutions and technologies. This means that we need to bring their carriers – those who produce these works – to a new level as well,"– Konstantin Afonin, an international expert in the skill of concrete construction work, said.
According to the expert, training for competitions promotes intensive vocational education in the construction industry. This has a significant impact on Russian vocational education program, and in the next two-three years will change approaches of concrete construction work producers.
During the Bauma exhibition team members performed real-time lashing of a reinforcing cage for a beam, as well as installation of a framed wall formwork with an archway.
Test projects of WorldSkills competitions are based on the latest international practices in the area of production technologies. Particular attention in assessment of test projects performance is paid to accuracy of linear dimensions, horizontal and vertical arrangement of formwork elements, as well as quality of reinforcing cage lashing.
Training sessions of WorldSkills competitors take place at Doka formworks, more precisely – a lightweight Frami Xlife formwork. The Austrian company initiated the introduction of the skill of concrete construction work to WorldSkills back in 2015. Doka is providing its support for competitors in the skill of concrete construction work twice – in the Seventh "Young Professionals" (WorldSkills Russia) National Competition 2019 in May and WorldSkills Kazan 2019 in August.
Other news